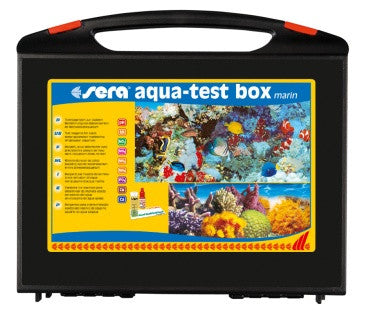 Sera Aqua Test Box Marine
 Contains 9 Major Sera Tests for saltwater & reef tanks, plus a sturdy carry case, laminated plastic color charts, deionized rinse water, multiple test tubes, and keeps everything neat and organized.  Saves money over buying individual test kits.  Saltwater only.
This professional set consists of Nine different water tests for saltwater aquarists.
Contains the following tests:
pH value
carbonate hardness
ammonium/ammonia
nitrite
nitrate
phosphate
iron
copper
calcium