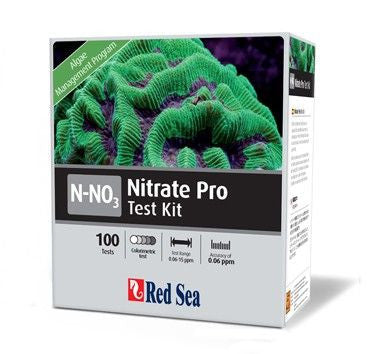 Red Sea Nitrate Pro Test Kit
| | |
| --- | --- |
| * | Accurate marine aquarium test for high and low range nitrate levels in reef and saltwater aquariums |
| * | Innovative Color wheel comparator simplifies matching of nitrate test results |
| * | Measure aquarium nitrate levels with accuracy |
Red Sea Nitrate Pro Test Kit employs an innovative new approach to boost accuracy of colorimetric (color matching) nitrate testing. Simply secure sample vials inside the easy-view comparator. A white background beneath the sample vial containing the reagent ensures proper color representation. Simply turn the color wheel until there's a match!
Red Sea Nitrate Pro Test Kit boasts a new level of convenience for reef aquarium hobbyists. Comparator is viewed from above to eliminate awkward handling of test vials and small, difficult to match color charts or color chips. Routine and precise measurement of aquarium nitrate levels is essential for monitoring unwanted algae growth in coral reef aquariums. High levels of nitrate can not only fuel unwanted algae growth but can also affect coral growth and coloration. This advanced colorimetric nitrate test kit encourages proper testing skills with ease-of-use and a high degree of accuracy (0.125ppm).
Included quick guide walks you through the testing process with simple, easy-to-understand illustrations. Colorimetric chart displays nitrate test results from 0 to 64ppm. Measure and monitor nitrate levels with Red Sea Nitrate Pro Test Kit to ensure ideal water parameters for coral reef aquariums housing SPS, LPS and Soft Corals. 100 Tests. Accuracy of 0.125ppm.
Contents:
Comparator
Instruction Manual
Color Disc
Syringe 10ml
Reagent A - 40ml
Reagent B - 25ml
Reagent C - 25ml