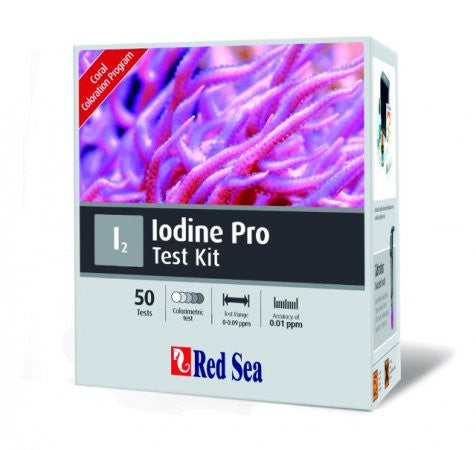 Red Sea Iodine Pro Test Kit
| | |
| --- | --- |
| * | Advanced iodine test kit simplifies care of reef aquariums |
| * | Accurate testing crucial when supplementing corals with iodine so as not to overdose |
| * | New approach to iodine testing involves less steps for ease of use |
Redefine iodine testing for accurate test results without any trouble. Conventional colorimetric (color matching) iodine tests involve constant monitoring of a chemical reaction. Sample water in the test vial gradually changes color and when the reaction time is over, it is compared against a small, difficult to match color chart or color chip. The Red Sea Iodine Pro Test Kit takes an innovative approach to boost accuracy and convenience.
Simplified color-matching process eliminates the need for a timer or stopwatch. When the vial containing the standard or reference solution matches the color chart, you know the reaction period is over. Compare the sample water to the color chart grid to measure iodine levels between 0 and 0.09ppm. This advanced colorimetric iodine test kit encourages proper testing skills with ease-of-use and a high degree of accuracy (0.01ppm).
Included quick guide walks you through the testing process with simple, easy-to-understand illustrations. Measure and monitor iodine levels with Red Sea Iodine Pro Test Kit to ensure ideal water parameters for coral reef aquariums housing SPS, LPS and Soft Corals. 50 Tests. Accuracy of 0.01ppm.
Why is Iodine Tested?
Routine iodine testing is crucial in coral reef aquariums supplemented with iodine. This element is important to the coral skeleton and soft tissue and is specifically important for SPS corals to display their natural pigments. Iodine is related to the pink chromo-protein (pocciloporin) and proper iodine supplementation encourages enhanced coral coloration for a stunning and vibrantly-colored reef aquarium. However, iodine becomes toxic in concentrations above the levels found in natural seawater. Therefore, correct dosage of iodine supplements and routine iodine testing is crucial to the health and success of any reef aquarium.
Box Contents:
2 Glass Vials
Instruction Manual
Color Card
Syringe 10ml
Reagent A - 25ml
Reagent B - 50ml
Standard - 12g