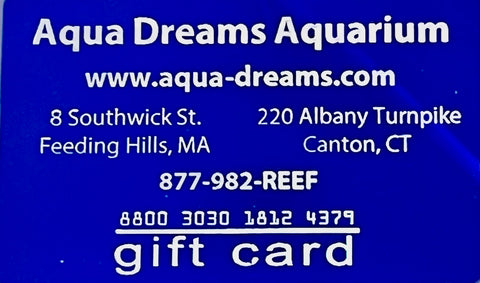 AQUA DREAMS GIFT CARD


 Aqua Dreams Aquarium

retail store Gift Card.

 If a shipping address is entered,  we will mail it there. or leave a note with instructions in your order!!  Can also be picked up at either store location.

 Let them choose the tank, fish, coral, lighting system or accessory they really want!

 
Select you desired value, ships within 48 hours.  No expiration date
Valid on all Live Fish, Corals, Inverts, Live rock, and supplies! In-Store Use only. (Not currently accepted for website purchases.)  We do not accept gift cards as payment on non-stock, special order items.
Sent Via regular US Mail.  $4.00 processing & mailing fee added to all online gift card orders.  Gift Cards can be sent directly to your recipient if you wish. Please fill out all desired information including complete recipient names and addresses in the Notes field, when checking out.  Email us or call if you have questions.  Our gift cards are reusable and can be re-loaded and used like a debit card in our store, plus they never expire!
To purchase a gift card for a denomination other than those listed, please email or call us.