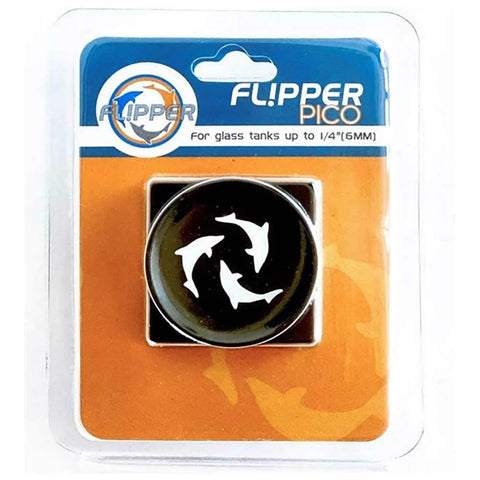 Flipper Pico Cleaning Magnet
for glass up to 1/4" 
FLIPPER CLEANER - PICO SCRAPER 2.0
Love the cleaning power of the original Flipper, but are the original models just a bit too big for your needs? Then the Pico Scraper is exactly what you're looking for. Don't let its size fool you: The Pico Scraper 2.0 was designed to remove even the most stubborn algae from your glass thank with minimal effort!
A great tool for a small aquarium
The Flipper Pico Scraper was built to satisfy the many Flipper fans who love the larger models but need something significantly smaller. This is why the Pico Scraper is specially designed for small aquariums such as pico and nano reefs, goldfish tanks, and beta aquariums.
A two-in-one cleaning tool
The Pico Scraper is more than "just a scraper". By simply turning the handle, you can turn this incredible scraper into a scrubber. We recommend using the scraper specifically for loosening up stubborn algae and other filth from your tank while using the scrubber to clean it up!
Just as strong as its older brothers
Like the original Flipper models, the Pico Scraper uses incredibly strong magnets to ensure that they securely adhere to the walls of your aquarium as you clean even the most stubborn filth while minimizing the likeliness of the two parts disconnecting. It is the smallest, most powerful and versatile magnetic algae cleaner and scraper for aquariums ever developed. The Pico Scraper is for glass and acrylic tanks up to 1/4" (6MM) thick.