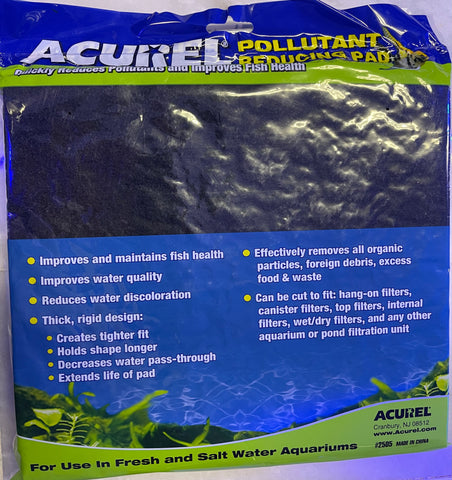 Acurel Pollutant-Reducing Carbon Pad
18" x 10" Carbon-based filtration pad.  Cut to fit.  Purifies water by removing colors, odors, dissolved gases & toxins.  Two products in one, filtration pad for mechanical particulate removal, and activated carbon for ultra purification.  Change/replace monthly for best results, fits all types of filters.
Cut to fit media pads traps micro and macro organic particles, foreign debris, and excess fish food.
For use in custom sumps/refugiums, hang-on filters, prefilter boxes, and more. Safe for both freshwater and marine aquaria.
Chemical & Mechanical Dual stage filtration
Absorbs odors, discoloration, and toxins
Promotes a healthy aquatic environment. New thicker, more rigid design for extended use